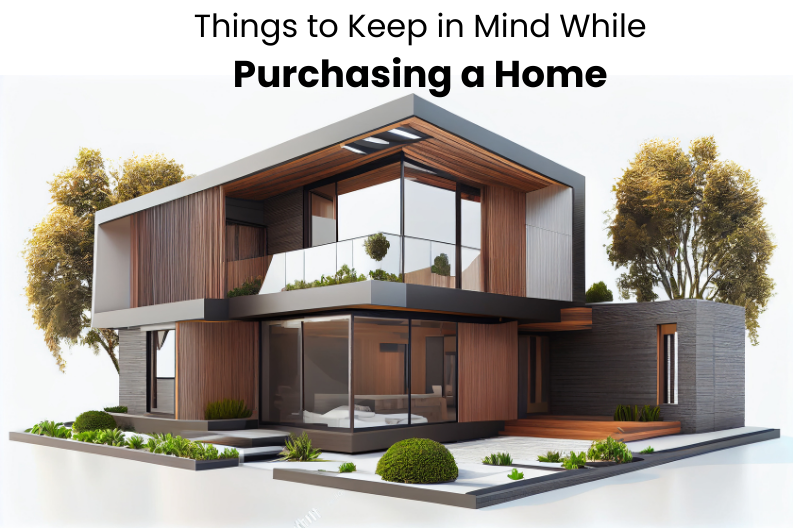 Making an informed decision when looking to purchase a property in Mohali or Kharar is essential because buying a home is an important life milestone. There are many different housing options available in this thriving city in Punjab, India, but before you start your search, there are a few important considerations you must keep in mind to guarantee a successful and positive home-buying experience.
Set a Realistic Budget:

Establishing a budget is the first and most crucial step in the home-buying process. Recognize your financial capabilities and establish your budget. Take into account elements like down payments, recurring mortgage payments, property taxes, and maintenance costs.  You can prevent future financial strain by sticking to your budget.

Credit Score:

If you are going to finance your new home, Then make sure that your credit score is 750 or above. A good credit score can help you to easily avail a home loan.

Location Is Important:

Location is crucial to one's overall quality of life. Think about things like how close Mohali or Kharar is to your workplace, local shops, restaurants, and public transportation. Look into the area's amenities, safety, and potential for future development that might have an impact on property values.

Size and Type of Property:

Choose the kind of property that most closely matches your needs and way of life. There are many options available in Tricity, including independent homes, villas, and apartments. Consider the size of your family and whether you'll need additional space in the future. It's critical to select the proper size and type of property for your comfort and convenience.

Builder Reputation:

It's crucial to check the builder or developer's reputation before

buying a flat in Kharar

. To determine their dependability, the standard of the construction, and compliance with project timelines, look for reviews and testimonials from previous customers. A trustworthy builder guarantees a more seamless and reliable transaction.

OM Divine World is the leading real estate builder and developer in Tricity, offering all kinds of residential and commercial properties at the best price.
Legal Due Diligence:

Before finalizing a property purchase, always demand appropriate legal due diligence. Verify the ownership of the property and look for any loans, encumbrances, or outstanding debts. This action will aid in your future avoidance of unforeseen legal snares.

Facilities and Amenities:

Analyze the features and amenities that the housing development offers. Mohali and Kharar has undergone significant development, and contemporary housing developments frequently include amenities like security systems, recreation spaces, gyms, and more. 

Resale Value:

Take into account the property's resale value. Even though purchasing a home is a long-term decision, it is advisable to consider how the asset's value may increase over time. Keep an eye out for local infrastructure improvements and new trends that may have an impact on future real estate prices.

Home inspection:

Before concluding the deal, conduct a thorough home inspection. This step will assist you in finding any hidden problems or structural issues that might need pricey repairs. Peace of mind and fewer unforeseen costs are guaranteed by a well-maintained property.

Finances available:

Investigate various financing choices, such as financing rates and home loans. Look around to find the best loan conditions that fit your budget. A sound financial plan must take into account the interest rates, repayment terms, and EMI schedules.
Conclusion
Buying a home in Kharar, Mohali is an important financial decision, and taking the time to think about these crucial factors can result in a happy and successful experience as a homeowner. You can make a well-informed choice that fits your lifestyle and financial objectives by creating a budget, carefully assessing location and property type, researching builders, performing legal due diligence, and addressing other crucial concerns. Keep in mind that purchasing a home marks the beginning of a new chapter in your life, not just an investment.
Related Posts