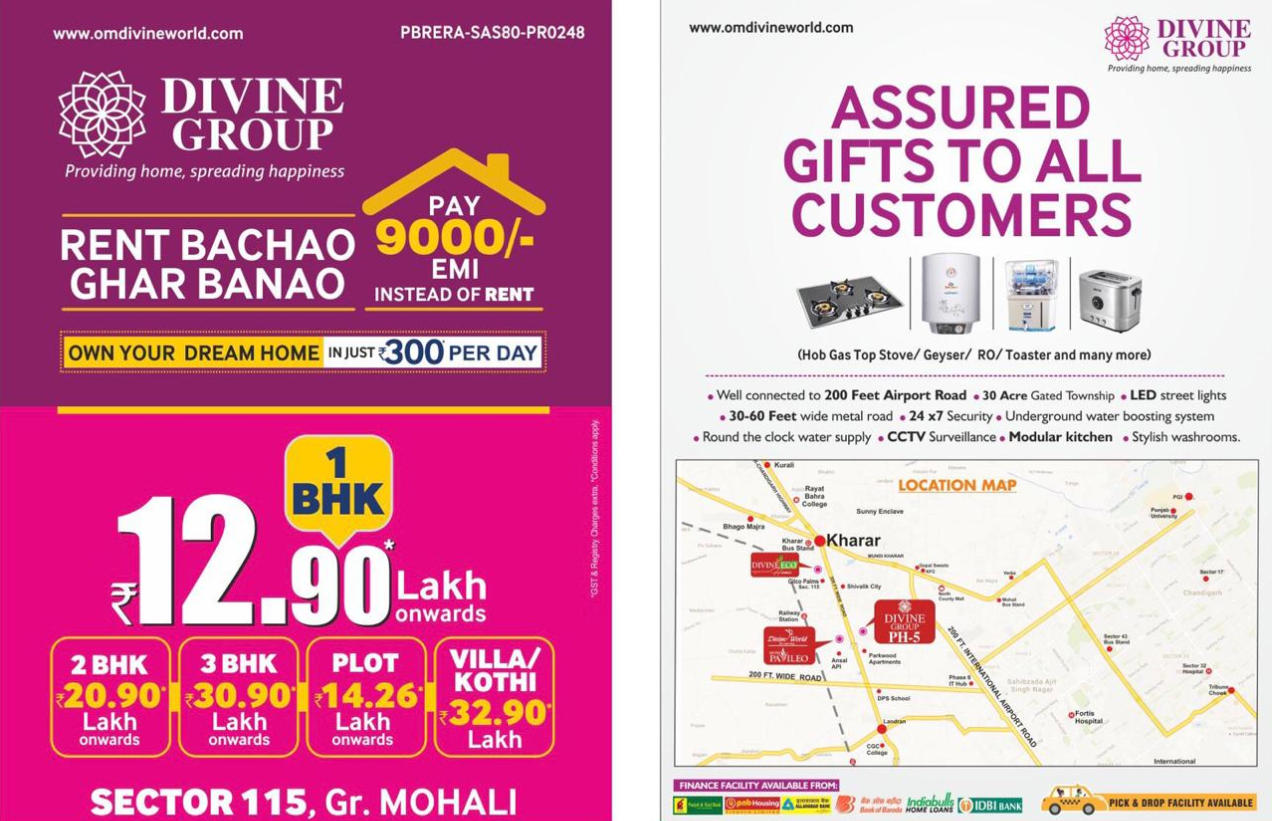 Looking for a comfortable, upbeat yet homely environment for your new home, well, we got it covered for you. Divine Group provides its unique and stylish houses at affordable prices just for you. The houses that best fit your pockets and available for every family size.
Are you worried about paying high rents, and do not want to burden yourself with house EMI's, well Divine Group has got your back? We are providing you with a great and the best deal you could ask for. All you have to do is pay 300 per day, yes you read that right, it's just 300 per day. It's time to get rid of the burden and worries of paying rent and big EMI's, just sit back and relax by paying just 9000 per month.
The township presents 1bhk, 2bhk, 3bhk, plots, and villas at your service. The location of these spacious homes gives you to a well-connected 200 feet airport road. The township provides 24×7 security facility. Living at Divine Group is a full package, with facilities like modular kitchen, stylish washrooms, CCTV surveillance, underground water boosting system along with 24hour water supply. The houses are well fitted with Hob gas top stove, geysers, RO, toaster and many more things, come and discover the feel of comfort, luxury, and elegance.
Divine Group offers 1bhk houses at just 12.90 lakh. 1bhk houses are an ideal choice for small families and students, at its affordable price. Families looking for 2bhk in Mohali are available at 20.90 lakh onwards. The 2bhk houses are cost-efficient and beautifully build. Divine Group, one of the well renowned real estate builders in Chandigarh, also presents 3bhk houses at 30.90 lakh which are available for every family size and also best fits the pocket. There are also plots available at 14.26 lakh along with villas at 32.90 lakh.
The people at Divine Group, work towards providing unmatched standards of living with top priority at customer satisfaction. Divine Group has been providing promising results to more than 2000 families with high-quality work and exceptional features, all at a very affordable price.
Related Posts